Ngamamaku Garden is nestled below the Kaitake Ranges adjacent to Egmont National Park. The site is very historic, see 'site history' button for more details.
The garden faces North West and looks down towards the Tasman Sea. The area of the garden is approx. 1.2 hectares (3 acres) and has been developed from scratch over the last eighteen years. It is a mixture of natural native bush and formal gardens. The most recent development is the Japanese Garden built in early 2004.
Much of the garden is wheel chair accessable.
There is an entry charge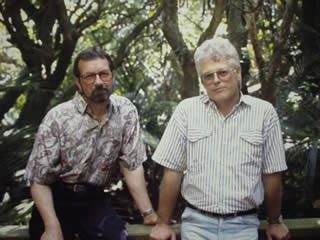 Contact: Tony and John
Address:
1521 Surf Highway 45
Oakura
RD4 New Plymouth
Taranaki
New Zealand
Tel: 00 64 6 7527873
Fax: 00 64 6 7527873
e:mail: tony.john@xtra.co.nz
approximately 20 minutes scenic coastal drive south west of New Plymouth, 4km past Oakura. Ngamamaku is on the left opposite Lower Ahu Ahu Rd and near Lucy's Gully.
Open during Taranaki Rhododendron Festival (late October/early November)
Other times by appointment - please feel free to telephone at any time.